Where to find us
Our Birmingham Centre is located in Bromsgrove, and is our home hub and FUE Clinics HQ, covering the entire Midlands.
Just a short distance from Birmingham, it provides convenient access from surrounding areas; including Birmingham, Coventry, Leicester, Peterborough, Nottingham, Northampton, Worcester, Hereford, Shrewsbury, Telford, Leamington Spa, Loughborough Macclesfield and more.
How to get to us
By Bus
If you're travelling by bus, there are a number of stops just a stone's throw from our doors on Birmingham Road and Old Birmingham Road. There are regular bus services from these stops travelling to Birmingham and further afield.
By Train
Our Birmingham clinic is well connected by rail, with Bromsgrove Railway Station being easily accessible from Birmingham, Worcester and beyond. From the station, you can take the 145A bus towards Ruberyfor 11 minutes, or we're just a short taxi ride away.
By Car
We are well situated for those arriving by car. Our clinic is just off the A38, making it easy to reach from Birmingham and Worcester via the M5, or by the M42 for those traveling from the East of England.
FUE Hair Transplant
Follicular Unit Extraction (FUE) involve removing individual hair follicles and are considered to be the least invasive procedure available.
FUT Hair Transplant
Follicular Unit Transfer (FUT) procedures involves extracting a narrow strip of tissue from the back of the scalp to provide quality donor hair follicles.
Beard Transplant
Just like a hair transplant, utilising high-quality donor hair from your scalp allows us to restore or create facial hair, resulting in a full beard.
Eyebrow Transplant
Whether you're looking for partial or full eyebrow restoration, eyebrow transplantation can result in full, natural brows.
Body Hair Transplant
If your donor area is lacking in quality hair follicles, a body hair transplant can use hair from areas such as your chest to be used on your scalp.
Scalp Pigmentation
Scalp pigmentation is a non-surgical treatment that simulates natural hair stubble. Both permanent and semi-permanent options are available.
Trichologist
Our team of top trichologists are experienced specialists who investigate and diagnose scalp and hair issues, along with insights into possible treatments.
Hair Transplant for Women
Up to 40% of women suffer from some level of hair loss within their lifetime. We provide a permanent solution for those looking to rejuvenate their hairline.
What is a hair transplant?
A hair transplant is a surgical procedure designed to combat male pattern baldness and other forms of hair loss. The process involves surgically removing hair from the donor area — the hair on the sides and back of your head — and transplanting it into the scalp in the patient's bald areas.

There are two common types of hair transplant procedures, Follicular Unit Extraction (FUE) and Follicular Unit Transfer (FUT), both of which are delicate surgeries that require a specialist to perform. Hair transplants leave minimal to no scarring and are popular with both men and women who suffer from hair loss. Learn more about our hair loss treatments.
Our Surgeons
Dr. N Zakynthinakis
FUT Hair Transplant Surgeon
Ability exceeded only by my passion.
Dr. Zakynthinakis has gained an impressive and enviable background in the surgical field of complex Hair Restoration, having completed years of fellowship training in Hair Restoration under the direct supervision of the world's leading surgeons and institutions, learning the most advanced surgical techniques for fuller more natural hair transplant results.
Dr. Nikolaos Zakynthinakis brings his skill and expertise exclusively to FUE Clinics as a senior member of our expert team of Hair Transplant Surgeons.
View Profile
Dr. Steve Stangoni
FUE Hair Transplant Surgeon
I understand the true impact a great hair transplant can have.
Dr Stangoni joined our surgical team back in 2014. A hair loss sufferer himself and subsequent hair transplant recipient equip him with a fundamental insight into the difference a great hair transplant can make to an individual.
Dr Stangoni has fast become a well-respected and senior figure amongst his medical peers in the field of hair transplantation, catapulting him to lead surgeon status at FUE Clinics, exclusively specialising in FUE (Follicular Unit Extraction). Dr Stangoni has an undeterred ambition to provide patients with the very best treatment that delivers on and exceeds their expectations.
View Profile
Dr. Anne Kremer
FUT Hair Transplant Surgeon
Nothing short of greatness.
Miss. Kremer is the culmination of FUE Clinics's investment into scouring the Globe for the finest Hair Restoration Surgeon(s).
As one of FUE Clinics leading surgical team, you can be assured of greatness when considering FUE or FUT Hair Transplantation. Miss Kremer a native of Germany exclusively treats FUE Clinics patients.
View Profile
What to expect from your consultation
Your consultation is a chance to meet one of our experienced trichologists and learn more about the services we provide at FUE Clinics. This will be an informal meeting in which we get to know you and better understand your situation. You'll also have the opportunity to ask any questions you may have — we're here to inform and find a solution that's right for you.
During the consultation, we'll examine your hair and scalp to gauge the extent of your hair loss and discuss your transplant expectations. As we provide a number of hair loss solutions, we can recommend a suitable procedure once we can see the affected areas.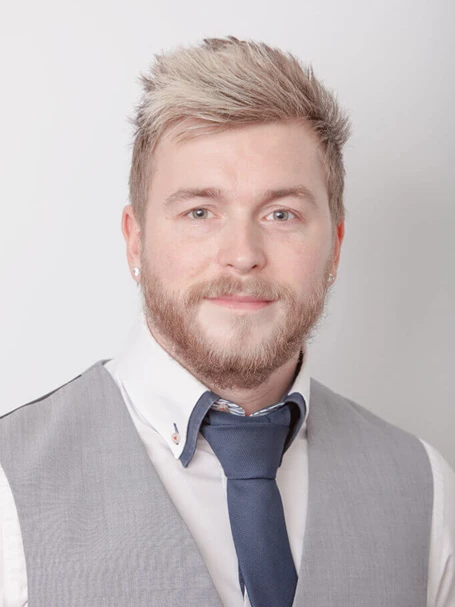 Three steps for your UK hair transplant
01
Get in touch
with us.
During the initial call, we will make the appropriate arrangements to schedule a consultation on a convenient date and time to suit.
02
We provide a FREE Online consultation.
The online consultation will enable us to understand the concern you have, discuss and identify the most advantageous treatment plan along with the associated treatment price.
03
We book you in for your hair transplant.
If you're happy with the advice and treatment proposal, all that is left to do is schedule your treatment and the years of suffering will soon be in the past.
What to do while you're here
Relax and unwind
Taking the leap to speak to a specialist about your hair loss can feel a little daunting to some people. What better way to unwind and quell your nerves than by exploring idyllic Solihull. Set in the heart of the islands, you'll find heaps of heritage and charm in the surrounding picturesque villages and green spaces like Balsall Common and the Green Man Trail.
Take in the best of Birmingham
As you'll find yourself on Birmingham's doorstep, you've got the perfect excuse to make the most of your trip and see what the great city has to offer. Head to Digbeth to give yourself a culture fix with museums, galleries and street art murals; or explore the diversity of the city's vibrant Southside.
Treat yourself
If you're travelling for your hair consultation, you may as well make a day of it. From fantastic independent bars and restaurants in the historic Jewellery Quarter to a mouth-watering curry from one of the Balti Triangle's famous family-run restaurants; you can indulge in some unforgettable meals.
Seasonal Hair Loss Explained
15th September 2023
9 min read
Learn everything about seasonal hair loss with FUE Clinics, from what it is, the causes and how long it lasts to how to stop it. Read our guide to discover more.
What Is Hair Porosity
30th August 2023
9 min read
Understanding your hair's porosity level is key to healthy hair. From low to high hair porosity, discover which level you have and how to care for it. Read today.
How to Stop Hair Loss From Stress
30th August 2023
9 min read
From why stress can cause hair loss to tips for managing it, learn everything there is to know about stress-induced alopecia with our FUE Clinics guide.
Not everybody is suitable for a hair transplant. There are many factors that must be taken into consideration to determine this, to list a few: hair characteristics, the extent of hair thinning/loss, size of your head, amount of hair you wish to regain/reclaim, the amount of hair you have to use, etc.
The most accurate way to determine your suitability and the options that exist for you specifically is to attend a FREE expert consultation with one of our specialists who can accurately assess your situation and advise you honestly.
The cost of a hair transplant varies from one patient to another and is in most cases impossible to determine without a consultation with one of our specialists.
To accurately determine the true cost of a hair transplant we first need to determine if this form of treatment is the most appropriate in your circumstance. We then need to assess the extent of your thinning/loss, the size of the area that requires treatment and determine which method of hair transplant is preferred or most advantageous. Only then will we be able to definitively offer a cost for the treatment. Analogy: You would not expect a carpet fitter to give you a price to supply and fit carpet for your hall, stairs and landing without first needing to measure up. The same principle applies to hair restoration.
No. A hair transplant is not a painful procedure. The most discomfort you as a patient should feel is the first few injections of local anaesthetic. Once the initial injections of local anaesthetic take effect all subsequent injections of local anaesthetic and the procedure will be perfectly comfortable. The most you will be aware of is light pressure.
A typical hair transplant result begins to emerge at approximately 3-4 months when the hair follicles enter into a new Anagen growth phase. The appearance of thickness and fullness will continue to develop with the final results of the hair transplant being manifested at between 12-18 months.
The Care Quality Commission are an independent government body that regulates all healthcare providers both Private and NHS. It is a legal requirement that any company or organisation that provides healthcare in the UK is registered to carry out their registered activity/treatment with the CQC. A provider that is registered with the CQC assures the consumer/patient that the service provided and the facility that the service is carried out at is to the highest standards. You can validate the registration details of a provider by visiting: http://cqc.org.uk and typing the provider's name. If the provider is not in the database they are not registered and you should not only avoid but notify the CQC and police of this company/organisation.
QUOTE REQUEST